This conference is for all primary care clinicians in the USA.
How many years has it been since you completed your medical training?
Do you feel as competent and confident of your clinical skills now as you did when you finished residency?
What vital information do you need to stay current?
Does online or written CME answer ALL of your pertinent questions?
Would you enjoy being taught by the specialist and then having your clinical questions answered in person?
This conference will provide you with the most up to date clinical pearls needed to diagnose and treat the illnesses that lead to the most common causes of death in America (heart disease, cancer, stroke…). Errors in managing patients with these diagnoses can easily lead to successful litigation against us. Additional topics are selected from input provided by needs assessment data obtained from those who have attended prior courses.
You will be taught by specialists who are clinicians currently practicing in their field of expertise (e.g. cardiology, oncology, neurology, orthopedics, otolaryngology, dermatology, pulmonology, etc).
Our speakers are down-to-earth and approachable. Each lecturer will teach the most current principles of patient management in their field which will, quite simply, help you to keep your patients alive.
Many lectures will include Live Patient Demonstrations, such as how to do an EKG correctly, how to examine a shoulder (as taught to us by an orthopedic surgeon) or the knee examination.
You will ingest a great wealth of information (clinical pearls) that can be put to use immediately upon return to your clinical facility. See our testimonials (click here)..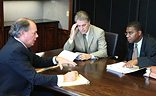 We are very pleased to announce the inclusion of lectures from a team of renowned lawyers who are successfully experienced in both defense and prosecution of physicians. Their unique knowledge is far more valuable than a lawyer with defense experience only. In their lectures, they will provide specific vital details and advice that will help prevent lawsuit. For the unlucky few, they will also address what to do when litigation ensues. Do not skip these lectures!
Please see the Schedule Page for specific topics to be presented at the event of your choice.
For conference registration prices, click the "Register Today" button below.